Calypso Monarch 2007 - Dynamite
August 9th 2007: He may not have had plans to come back and sing Calypso but last evening, the Mighty Dynamite won out over a high class of competitors to be crowned Anguilla Calypso Monarch 2007 with his songs "We want to know" and "A day for the father". Second runner up was the Mighty Repeater with "Trip on Air Calypso " and "Who we really are", both songs performed flawlessly and certainly on another night could have easily earned him the crown. In third was the Mighty Gossip who sung two powerful songs, "Coup d'etat" and "Judgment Day". Defending Calypso monarch Queen B did not place in the top three, but it was not for lack of effort or performance as she was her usual stellar self. High commendation must go out to the entire field of 9 Calypsonians who gave the audience their full money's worth plus more !
| | |
| --- | --- |
| | |
| 1st runner up Repeater | 2nd runner up Gossip |
A full photo display will follow on www.anguillanews.com in the coming days!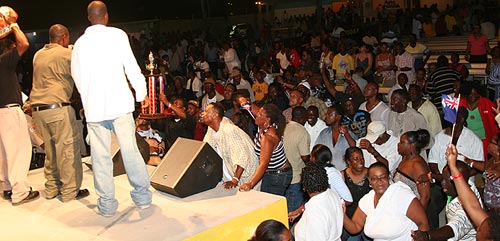 Calypso Monarch Serenades Fans after being crowned at the Landsome Bowl Cultural Center